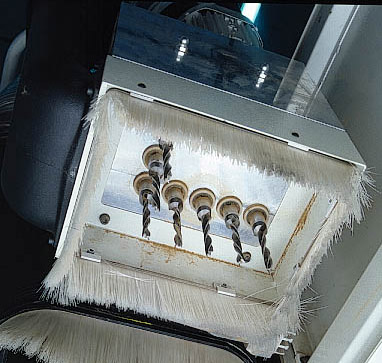 Machining centre designed and engineered for machining wood, plastics and non-ferrous metals.
Due to the unique design and PRO-SPACE safety systems, it requires less floor space and can be operated from all sides for material handling of smaller components.
Predetermined Specification:
2440 x 1220 mm bed

F7 Drilling Unit

9.5 kW Electro Spindle

TR11 Tool Changer

Vacuum Pump

OPT: unloading arm and conveyor
ADVANTAGES
MINIMUM OVERALL DIMENSIONS AND MAXIMUM FLEXIBILITY: "PRO-SPACE" PROTECTIONS
Loading zone completely free to reduce the space occupied to the minimum. The absence of perimeter protections facilitates the work table access on all the sides of the machine.
THE PERFECT DRILLING: RO.AX SPINDLE
Zero play during machining with the new RO.AX technology (Rotoaxial spindle technology), the most efficient spindle on the market with rotation speeds up to 8000 rpm. The sturdiness of drilling heads is proven by the reduced maintenance costs: five times less than that imposed by the majority of other machine manufacturers.
DESIGNED FOR EFFICIENCY AND SAVING: "H.E." (High Efficiency) WORK TABLE
Sturdy and practical work table, resistant over time thanks to its laminate aluminum structure.
TOTAL LACK OF VIBRATIONS: MOBILE GANTRY STRUCTURE
Performance without comparison with the mobile gantry structure that allows for high machining speeds whilst guaranteeing the best end products quality.
Easy and quick setting with the magnetic locking system of the vacuum: in a few seconds the vacuum is activated only in the positioning area of the piece to be machined.