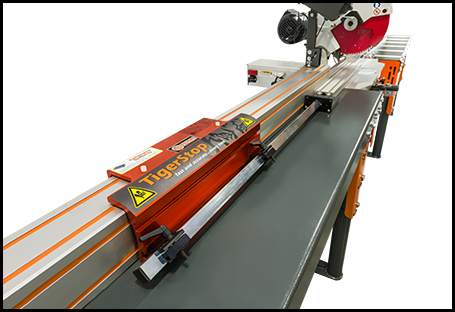 PUSH IT, PULL IT, POSITION IT
TigerStop® is an automated material pusher and stop gauge that will turn your existing machine into a lean manufacturing asset. Take your operations to a whole new level with the product that started it all.
Accuracy .004 in .10 mm
Capacity 120 lbs 54 kg
Max Length 30 ft 9.1 meters
WHY YOU NEED A TIGERSTOP
Measuring and setting manual stops takes time, requires a great deal of skill, and even with the best operator you will still get misscut parts requiring costly rework. TigerStop was designed to solve these problems.
Adding a TigerStop means increasing speed and accuracy with a machine that is easy to operate.
Speed
Automation means faster processing – so you can output more finished parts a day. Just punch in or download your cut list, the stop will move to position, and simply place your material and cut.
Accuracy
The TigerStop is amazingly accurate giving you perfectly cut parts… every time. This saves on costly rework and reduces labor costs.
Easy to Operate
TigerStop's interface is easy to use and an operator can be trained in as little as ten minutes. Once trained, station set up time goes to zero for even more cost savings.
Simply add the TigerStop to an existing saw station, drill, or punch, and you transform your machine into an automation solution for a huge jump in efficiency and accuracy.
BENEFITS
Fast and Accurate… Every Time
TigerStop® quickly positions to your desired length and cuts within +/- .004 in (.10mm) every time. The part you cut today, will be the same as the part you cut tomorrow.
Eliminate Rework
With TigerStop® you can say "Goodbye" to rework! Parts are cut accurately the first time around so you won't waste time fixing errors. TigerStop enables your newest operator to perform like a seasoned sawyer.
Flexibility
TigerStop® can be fitted to any machine tool where accuracy and repeatability are required. This includes, chop saws, upcut saws, table saws, drills, ironworkers, press brakes, you name it.
Keeps Operators in the Zone
When operators are busy setting and resetting manual stops, they aren't cutting. And when they aren't cutting they aren't making you money. TigerStop® keeps the operator at the saw and in the money making zone.
Fast Payback and Exceptional R.O.I.
Most users find that their TigerStop® pays for itself in a matter of months.
Easy to Automate
With TigerStop's powerful automation platform, you can quickly and simply automate your existing equipment. You decide how far you want to take it. Manual, semi-automatic, or fully automated processing. TigerStop can do it all.
Easy to Learn
Not everyone can read a tape the way you can. TigerStop's simple and intuitive controls allow even a novice to cut like a pro in just a matter of hours.